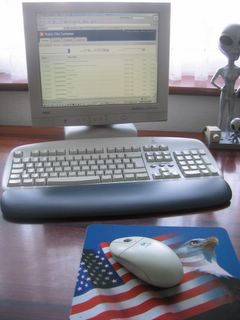 Here I sit and think of words. I want to see the most intensely personal emotions laid out on this screen. I want to show the results to people. A confessional to be read by others who know and respect the deepest feelings a soul is capable of. The next day my PC tells me there have been visitors. Good people who have read, understood, commented and moved on.
I try feeble poetry, short heartbreaking stories, reviews of matters musical and occasional rants on a pet topic. Tonight I see the last of the sun setting as I construct these sentences. A bat swoops in slow lazy circles under the trees catching insects on the wing. Stars wink on as I check grammar, spelling, punctuation and fiddle with vocabulary. Sometimes you settle into the zone. I have moved on now and am making notes for my next piece...
...TV audiences relish a case of multiple killing with morbid fascination. They are torn between the sheer brutality of the crime and the victims' extreme suffering. Next they marvel at the skill of the forensic detective, absorbing details like thirsty sponges. Twist and turn as he may, the killer will be caught and exposed even by the faintest trace of his ten-year-old saliva. There can be no mistake, there will be no escape.
Yet serial murder is no new phenomenon. In 1888 the Streets of Whitechapel were paced by plodding policemen, always several steps behind the most notorious killer of all time. A warren of gas-lit Victorian streets lined with five-storey slums provided cover which would be unknown in the twenty first century. No CCTV, DNA Profiling or Offenders Register, not even finger-printing. Little surprise that his identity remains a mystery to this day.
His final victim was Mary Jane Kelly. He visited such savage wrath upon this girl that the few surviving photographs of the one hundred and seventeen year-old crime scene could not be shown even to a 2005 audience without explicit warnings. However there would be no more killings and an uneasy return to normality spread across London's East End.
Soon I will consider what could have happened to bring deafening silence after that atrocity...