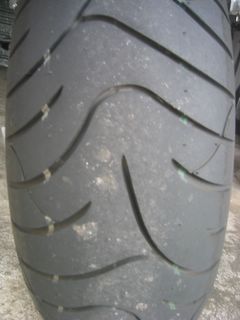 I made the circuit of my blogroll today and stopped to read many of the links you all carry. I yearn to write something deep and sensitive tonight but nothing will come. A week of drifting, eating when hungry and sleeping when tired has slowed my mental process to a crawl. Eventually this surfaced...
I rode hard and fast today, confident now the juicy fat tyres have been scrubbed of their shiny newness. This evening I chased the setting sun along a narrow ribbon of tarmac, drifting from left edge to right edge, straight-lining the curves and hugging the radius of each tight bend. I let the motor sing loud and clear through the gears. As dusk fell I slowed to cruise the return leg.
During my week off I spoke to five human beings, both my sons, my wife, my sister and my friend. Tomorrow I will stow my real life and return to corporate drudgery. The sky will be lower and greyer.
Colleagues will drink coffee with me and ask "how was your week off?" Pleasantness will exude from my every pore, "Great!" I will lie. "I decorated the back bedroom, tidied the garden and caught up with my family." Bollocks to them, the reality is I visited fascinating people around the planet on my PC, gunned my Yamaha along country lanes and thought about the future. That's what I really did all week.
How do you explain to workmates, I would love to arrange the best parts of my life on a grassy knoll. I would grab the four corners and fold it all in half again and again until it fitted in my pocket. I want consistency, dependability and integrity. And I want it in my pocket where I can't lose it.
I will surprise the DIY store salesman by asking for a selection of squares, circles and triangles. "I need geometric accuracy so just do as I ask, don't question me." He will back away in his orange overall shaking his head and frowning.
My wife wants a dog to go with the cat. I said, "If a dog arrives, I leave..." I guess a dog is unlikely to show up. If it does it will be a greyhound and my final act will be to paint it orange (using harmless natural pigments of course.)
I have been thinking with a white-hot intensity, yet I have lost a week somewhere without making a single valuable decision. Still waters run deep but I have always felt I am rather shallow...
"My brain hurt like a warehouse it had no room no spare
I had to cram so many things to store everything in there."
David Bowie – Five Years